We're Getting Mutants in the MCU - The Loop
Play Sound
Flavia Gemina



Birth and Death

16 June AD 69 (Ostia) - Unknown

Also Known As

Hair Color

Fair/Blonde

Eyes

Grey

Skin

Fair

Signature colour

Blue

Family Members

Step-mother

Uncle and Aunt

Cousins

Hyacinth

Quintus & Sextus

Rhoda

Two deceased twin sisters

Spouse- Flaccus

Four Children

Affiliation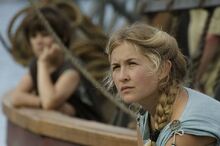 Flavia Gemina is one of the four detectives and can be considered to be the main character of the series. She has some close friends (Jonathan, Nubia and Lupus). She is the first of the four to be introduced.
In the TV series, Flavia is played by Francesca Isherwood.
Storyline
Flavia was born in Ostia on 16 June, AD 69. Her mother, Myrtilla, is beautiful. When she was around the age of three and sadly the twins that she was giving birth to died. Her father, Marcus Flavius Geminus named his ship, the Myrtilla, after her. This has played a large part in Flavia's noticeable independence, which is unusual in Roman girls.
By the time the series starts, she is a self-proclaimed 'detectrix' (a truth-seeker) with a brilliant mystery-solving mind. She lives next door to her friend Jonathan ben Mordecai who tries to help her solve her first mystery alongside his family, his father Mordecai ben Ezra, and his older sister Miriam bat Mordecai and their new friend Lupus.
She then goes to solve mysteries and avoid trouble around the Empire, her adventures taking her to places like Pompeii, Alexandria and Ephesus. She finally settles in the Villa Vinea with her betrothed, Flaccus.
Personality
Flavia can be bossy, impulsive, and easily swayed by her emotions. She hates not knowing things and is quite nosy. However, she always acts with the best of intentions and has a strong sense of justice. She has a very sharp and analytical mind. She is also very determined and 'too independent for her own good', similar to Cartilia Poplicola.
Physical Appearance
Flavia has grey eyes, which Nubia describes as 'like a clear sky', and blonde hair. Flavia also has pale creamy skin. She is described as pretty. She often wears blue tunics and stolas. However, in the last book, Pulchra admits that she is jealous of Flavia's appearance, suggesting Flavia's beauty developed as she got older.
Relationships
Marcus Flavius Geminus: Flavia's widowed father. He is aged around 31 in the books.
Gaius Flavius Geminus: Twin brother to Marcus, and Flavia's uncle. He is also a husband and father to Flavia's cousins Popo and Soso.
Jonathan Ben Mordecai: Flavia's Jewish next-door-neighbour. He is one of Flavia's closest and most trusted friends. He is also one of the four detectrix' in the series.
Lupus: A beggar-boy who was taken in by Jonathan and his father. He becomes a firm and loyal friend of the children and is one of the four detectrix' in the series.
Nubia/Shepenwepet: Flavia's best friend. Nubia is Flavia's ex-slavegirl and lives with the family at their home on Green Fountain Street. She was enslaved along with her family, most of whom were killed by slave traders. She later marries Flavia's tutor, Aristo Son of Diogenes.
Aristo Son of Diogenes: A Corinthian whom Marcus hired as Flavia's tutor after they met in a bar fight in Greece. He later marries Nubia in 'The Man From Pomegranate Street.'
Publius Pollius Felix: A good friend of Flavia but in the Sirens of Surrentum, Felix tried to kiss Flavia when said he was going to thank her for what she did. In The twelve tasks of Flavia Gemina, she admits her love for Felix.
Gaius Valerius Flaccus: Flavia's husband. He is first introduced in The Colossus of Rhodes as a "patrician snob" but eventually warms to Flavia. In the Sirens of Surrentum, Nubia thinks Flaccus is in love with her, and it's true, but since Flavia was later reported "dead", he engages Prudentilla, but calls off the wedding and marries Flavia in the epilogue in the last book.
Prudentilla: Flaccus's betrothed. Because Flavia was reported dead, Flaccus moved on and engaged Prudentilla. When Flaccus finds Flavia, she grows jealous of Prudentilla, especially when she brags about her engagement.
Cousins: Hyacinth, Quintus, Sextus and Rhoda play a minimal part in the story. Aulus Jr is Senator Cornix's son and helped her around Rome, but got a little rude with her. Popo and Soso are Flavia's twin nephews and she loves them, proven because she went all the way to Halicanarssus and Ephesus to save him.
Etymology
The name Flavia comes from the Latin word 'flavos', meaning fair, or blond.
Trivia
Flavia does not like currants or raisins because when she was watching a play about Orestes, she ate too many currants and vomited.
She is one of the three extroverts of the four detectives, the others being Lupus and Nubia.
Appearances
Flavia appears in, among others, the following novels: