Hephzibah bat David



Birth and Death

Also Known As

Hair Color

Copper

Eyes

Skin

Fair

Family Members

Affiliation
Hephzibah bat David is the young slave-girl of The Slave-girl from Jerusalem's title. She is a childhood friend of Miriam bat Mordecai.
Storyline
Edit
Hephzibah is first mentioned when Miriam enlists Flavia, Nubia, Lupus and Jonathan to help her find the man who witnessed her friend's manumission, which is being disputed by Lucius Nonius Celer. Without it, Hephzibah is forced to remain a slave.
The copper-haired Jewish girl is later accused of triple murder - including that of her former master,
Dives
- and in the quest to proclaim her innocence, the four friends learn she was present during both the fall of Jerusalem and the siege of Masada, of which she was one of the seven survivors. When a rumour emerges that Dives had intended to marry her before his death, the apparent evidence against Hephzibah starts to pile up. The detectives begin to worry that they will lose the case and the girl's hope of freedom.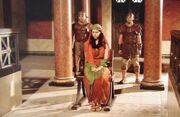 Near the conclusion of a long and nerve-wrenching trial, in which she is defended by Flaccus, Hephzibah's former master's missing final will is produced. She receives a legacy which makes her very rich for the rest of her life. Flaccus is able to prove that Nonius committed the murders, resulting in the latter confessing and clearing Hephzibah's name.
Miriam confides in Hephzibah about her vision of an angel telling her she will die giving birth and asks her friend to look after her babies when she is gone. In The Beggar of Volubilis Hephzibah is said to be doing so, having moved into Jonathan's house after Miriam's widower Gaius disappears. Aristo speculates in The Prophet from Ephesus that the only reason Mordecai and Susannah, Jonathan and Miriam's parents, were surviving, was "Hephzibah's riches".
Personality
Edit
Physical Appearance
Edit
Etymology
Edit
Appearances
Edit