Welcome to the Roman Mysteries Wiki!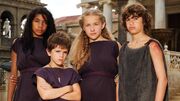 About | FAQ | Help Pages | Login
---
The Roman Mysteries Wiki is a free, public and collaborative encyclopedia dedicated to Caroline Lawrence's Roman Mysteries series, its sequel and sister series, and the TV series.
Please create an account with Wikia or login with Wikia or Facebook to begin editing and earning badges!

If you have questions, want to talk about the Roman Mysteries, or simply want to chat, please visit the Forum.

CAUTION: This wiki contains spoilers from the Roman Mysteries novels and TV show. Read on at your own risk!

This wiki was founded on the 3rd of September, 2010.
Contribute
We are eager to improve and expand the amount of articles, photos and videos on the wiki, so your contribution, however small, is greatly appreciated!

If you are interested in helping out around the wiki, here are a couple of things you can do:
<createbox> width=24 break=no buttonlabel=Create new article </createbox>
For a more detailed list, check out the to-do list in The Newcomer's Corner.
Editing Help
If you are a bit confused how editing works, you can:
You can practise editing in the Sandbox.
Disclaimer
Roman Mysteries Wiki is not affiliated with author Caroline Lawrence or any of the other current or past owners of the Roman Mysteries brand. It does not intend to infringe on copyright.
All of the wiki's content is contributed by volunteers and therefore it does not claim to be a faultless, complete and at all times reliable resource.
Wikia holds no responsibility for the content of external sites that are linked to from this wiki.
About the Roman Mysteries
The Roman Mysteries is a series of books written by Caroline Lawrence, as well as a CBBC TV series, following the adventures of four young detectives in Ancient Rome.
Historical events, such as the eruption of Mt. Vesuvius, and figures, such as Gaius Valerius Flaccus, play large roles in the stories.

New?
If you are new to the wiki, or Wikia in general, head over to The Newcomer's Corner. You can also check out the wiki's About page.
If you have questions, please check the FAQ, the Forum or ask our admins, Hephzibah and Lolyshorthead.
Featured Article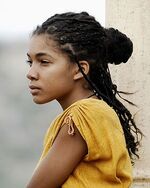 Nubia
was born Shepenwepet, an African princess of the Leopard Clan. Her family is brutally murdered and she is taken as a slave to Ostia, Italy. There she befriends a young detective and is thrown into a world of danger and mystery.
Poll
Affiliates